Testimonials
The following messages, from both cancer patients and hospital executives, attest to the valuable services and comfortable surroundings Marilyn's Place and Marilyn's Place and Learning Center provide to people in need.
Dear Joe,
 
It is with extreme gratitude that I am writing this letter on behalf of your generosity to the Milton and Bernice Stern Department of Pediatrics at Beth Israel Medical Center. Your donation allowed us to purchase a much needed Pediatric transport stretcher which allows us to quickly and safely transport our critically ill children to other areas of the hospital for them to receive scans and at times life-saving interventions.
 
I know that your loss of Marilyn is painful; However, I am hopeful that you receive solace and comfort from all the good that you perform in her memory. After seeing all of those wonderful pictures of her I can only imagine her smiling as a child rolls by on the new stretcher.
 
Again, on behalf of the children I have the pleasure of caring for, thanks.
 
Warmest regards,
Edward E. Conway, Jr. M.D.

"[Marilyn's Place and Learning Center] is being used more these days since we have late hours in the department.  The patients watch the Xim video in privacy, and the holistic nurse, social worker and nutritionist use the room to meet with patients as well. Overall the patients are loving the unique look to it, so they really make use of the material available and the space." 
– Nancy Amalbert, Hospital executive at Roosevelt-St. Luke's Hospital   
"[Marilyn's Place] was the perfect spot to escape the staring eyes of a waiting room. Me and my husband would come in here – I had a feeding tube and I would be able to do the feeding in private. I could watch TV, or read a magazine. It was just a wonderful place to go to. I was pretty tired during the treatments so I just needed a place where I could just sit back and relax."
"[Marilyn's Place] has been a lifesaver to them. It gives them a place where they meet other patients, and when the patients go for treatments, it gives the family a place to breath." 
– Cindy Turkeltaub, CSW, Coordinator of Social Work Services at Continuum (Beth Israel) Cancer Center   
"Now I know it is true. One person can and has made a big difference!
 
I am here for the last two weeks with my friend. She is on a very aggressive treatment for throat cancer – 2 Chemo and 2 Radiation per day. When we come to the room between 12:00 pm and 2:00 pm each day it is a welcome escape.
 
We feel like we are at home and have escaped the hospital. It gives her a much needed 2-hour nap between her treatments. It seems you thought of everything.
 
It is hard to describe the gratitude and warmth we have as a result of this room."
"[Joe Brodoff] just doesn't sign a check, but he comes by, he makes sure the water is here, the books are OK. He is very hands on." 
– Dr. Stuart Fleishman, director of cancer supportive services at Continuum Cancer Centers of New York at Beth Israel Medical Center and St. Luke's-Roosevelt Hospital   
"I was very comfortable being treated in the room dedicated to Ilene's mom. It is very calming having treatment in that setting vs. a stark room at the hospital. You are definitely on the right track. For all the patients, I sure hope you are able to continue this program with the powers that be."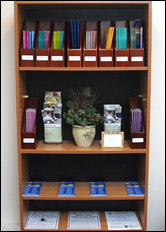 "I just wanted to share some good news about Marilyn's Center.  In our September patient satisfaction survey a patient made note of the following comment: 
'My son found the
office
– Marilyn's Room – very useful while he waited for me to complete my daily treatment. Many thanks for that.' 
Also, I've had to restock the room twce and a Spanish speaking patient gave me a BIG HUG for having reading material on breast cancer. So, it's definitely getting used more and more and we're getting great feedback." 
– Nancy Almbert, Hospital executive at Roosevelt-St. Luke's Hospital   
"Thank you for sharing such a wonderful oasis.
 
What a comfortable space to return to – in between the various treatments, it was greatly appreciated.
 
My best friend spent the last two weeks of my treatment here with me, and together we shared the space you built to rest and regain our strength before continuing the next step of therapy for the day.
 
After morning sessions we took a walk, collected some lunch and snacks and returned to "Marilyn's Place" to relax and regroup for the next portion of the day. Can't imagine those days without your "special place."
 
Thanks for being so thoughtful to share this experience and comfortable spot with us and others. You have done such a great deed.
 
Thank you, great host."