Donations
We hope that you've enjoyed learning about the "Marilyn's Place" project and Marilyn's life and that you will join in our efforts to continue this legacy for Marilyn. 
Gifts of any amount will be deeply appreciated and will be requested on an annual basis. In the interim we would appreciate your consideration of our important project if you ever have to make a memorial or commemorative donation during the year. 
All donations will be acknowledged promptly and you will be kept up-to-date on our progress. 
Please click here to make a donation by
credit card on Beth Israel's secure Web site.
If you prefer to send a check, please make it payable to
Beth Israel Medical Center
and write
"For the Marilyn Brodoff Memorial Fund"
in the memo portion to ensure that your donation is applied to Marilyn's Place.
Donations are to be sent to:
Michelle Gillan
Beth Israel Medical Center
Development Department, 18th Floor
555 West 57th Street
New York, NY 10019
All donations are tax deductible.
Being the compassionate woman that Marilyn was, we know that she would be very proud to have her name associated with such a worthwhile endeavor. With your help, we can continue to provide assistance and services to patients for years to come.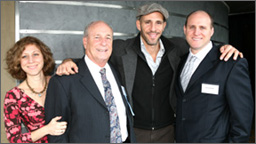 With warmest regards,
Joseph Brodoff
Ilene Brodoff Harrison
Bruce Brodoff
Steven Brodoff