Marilyn's Place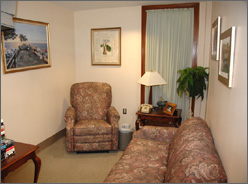 Marilyn's Place opened at Beth Israel Medical Center's Phillips Ambulatory Center in November 2003 and has since provided hundreds of patients with privacy, comfort and entertainment. 
Marilyn's Place amenities include:
Couch
Reclining Chair
Desks
Color television
DVD Player (and wide variety of DVD's)
VCR (and wide variety of videos)
Bookshelves stacked with books and magazines
Stereo and wide variety of music CD's
Free telephone service (unlimited local and domestic long distance calls)
Curtains, lamps, framed pictures and other decorations
Marilyn's Place also accommodates patients receiving acupuncture sessions, massage therapy, nutritional counseling and other holistic treatments. 
In addition to creating the Marilyn's Place suite, the Brodoff family has also equipped several waiting rooms, chemotherapy infusion suites and radiation treatment rooms at Beth Israel's Phillips Ambulatory Center with DVD players, computer with Internet service and free telephone service. 
If you would like to support our efforts to help cancer patients in need,
please click here
.